Oct 30, 2008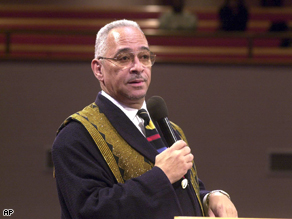 McCain has five days to make up six points in the polls.  He needs a game changer and there is no big event coming, no opportunity to exploit.  So why not go with Reverend Wright?  It's something some on the Right have been demanding for several weeks now.  Reverend Wright and his you-tube sermons should be a better source of Obama bashing than the often repeated Ayers attacks.  The Ayers charge was always questionable and easily debunked, but Wright and Obama actually had a close and well documented relationship. So why hasn't McCain or the RNC or some political action group charged in?  My take is that there are three key reasons why the McCain campaign is not going there.
McCain said he wouldn't.  OK, some of you might say that McCain said he wanted to run a clean campaign and we've seen where that led us, but McCain said "I have made my position very clear on this issue. And that I do not believe that Senator Obama shares Reverend Wright's extremist statements or views," that was a pretty definitive statement.  I think McCain sees himself as an honorable man and this is just a line that he can't bring himself to cross.  If he does, his own words can be used against him.
The Wright card has already been played.  Senator Clinton went there in the primaries and now everyone in the country knows about Wright.  The press covered the issue from every angle.  Plus, Wright never really went away.  The North Carolina and Mississippi Republican parties used Wright in ads over McCain's objections and the Judicial Confirmation Network, is running Wright related ads in battleground states.  There's just not a lot of ground left to cover here.
It plays to the wrong audience.  I'm sure as McCain and his advisors look over the political landscape, they see that the radical right is in the bag.  They already think Obama is a Muslim terrorist.  The religious right is pretty stable.  This is the group that likes Gov. Palin and votes on the abortion issue.  The fiscal and ideological conservatives are giving McCain problems, but often the complaints from that quarter include McCain's focus on non-issues and mud slinging instead of laying out a solid conservative agenda, so Wright isn't going to help there and could hurt.  That leaves moderates, Clinton Democrats and the bigoted Democratic vote.  Moderates are already turned off by the negative campaign, but we all know that negative campaigning works.  The problem here is that the Ayers campaign is a real failure.  Moderates have seen Obama in twenty debates spanning a year.    They've watched him on comedy shows and news reels.  It's a lot harder to define Obama in the electorate's mind now that it's seen him in action.  The Ayers campaign showed that.  A big Wright campaign might drive Obama's positive ratings down, but it could do a lot more damage to McCain.  Clinton Democrats have been turned off by Palin.  Palin is the anti-Clinton.   Where Clinton is "into" politics and sees government as a force for good, Palin seems shallow and dismissive of government and its role in society.  It was always a stretch for this group to vote for McCain anyway since McCain's policy positions are far from Clinton's.  Plus they've seen Wright before.  McCain doesn't need to remind them about Wright; they haven't forgotten.  Finally that leaves the Democratic bigot vote.  That might be harsh, but we all know it's there just like on the Republican side.  McCain probably already has this vote.  This is the group that sits around the dinner table debating Wright versus the economy.
There might be a few fence sitters out there in that final group, but is it enough to flip Pennsylvania?  No.  Ohio, North Carolina and Florida, maybe one or two, but McCain needs all three and the risk is substantial that the backlash could sink him completely.  But with the ship going down already, why not make an attempt?  The reality is that McCain seems uncomfortable with this group.  These are the folks (with their Republican counterparts) yelling out at McCain/Palin rallies.  Would he take their votes, sure.  But McCain has to go to work in the Senate on Nov. 5.  Win or lose, he's got to look his fellow Senators in the eye.  Is he willing to pander to the worst in our society for a distant shot at making the election a little closer?  At some point, you have to stop throwing good money after bad.  McCain's campaign is starting to feel like the bad and what is left of McCain's reputation is good money indeed.